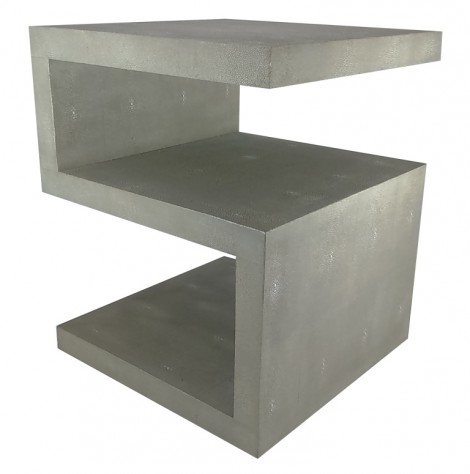 Sanaco Faux Shagreen number 2 or number 5 table
The Number 5 table in faux shagreen, Crafted of resin to recreate the natural patterning of sting ray skin, recalls the panache of handmade French Art Deco furniture.
Sanaco Faux Shagreen number 2 or number 5 table

A modern piece that references the historical fashion for shagreen , and veneered all faux 'shagreen' sections onto table tops and shelves, the Number 5 Table a offers a distinctly artistic edge to the traditional side table. This furniture makes it an ideal choice as a statement piece wherever you choose to place it in your home.

Sanaco new Number 5 Table will add a mathematical twist to your bedroom or sitting room. It will turn into "Number 2" table when you turn it 180 degree.

Whilst the top of the Number 5 provides a useful surface, the shelves and bottom make an excellent spot for storing magazines, catalogues or books. It will pair seamlessly with our other faux shagreen pieces.

Made in Vietnam by Sanaco Company.

OVERALL PRODUCT DIMENSIONS

Meters: 0.450 0.450 0.550

Inch: 17.72 17.72 21.65

How to take Care:

With spills, stains or smudges, remove it immediately with a soft, clean cloth slightly moistened with warm water and dry completely with another clean cloth, especially with the joining.

Materials

MDF + Faux Shagreen + Metal

PLACE AN ORDER:

Sanaco is a manufacturer and has exported to wholesalers over the world with FOB Price; MOQ is normally 20 to 50 pcs/sets.

Sanaco accepts to make samples with FOB Price x 2 times.