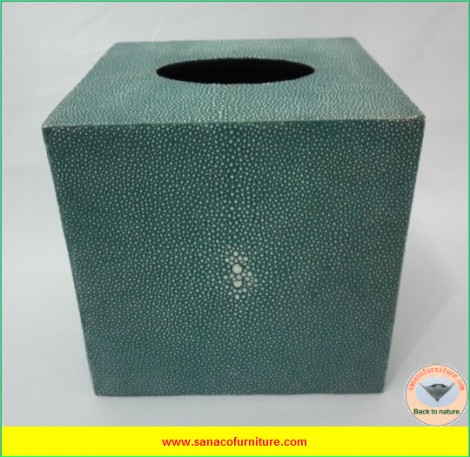 Square Faux Shagreen Tissue Box in TURQUOISE color
Our Sanaco Faux Shagreen Square Tissue Box Holder transforms an everyday essential into beautiful décor for your home.
Code:
FS 002 - TURQUOISE 051
Available in several of shagreen colors to suit many different interiors, the faux shagreen square tissue box cover is laminated in our very realistic faux shagreen. Every piece is hand-finished by Vietnamese skilled workers.

This shagreen Square Tissue box is an excellent addition to a bathroom or bedroom. Fits a square, boutique sized box of tissues. Another size is also available.

Other colors are also available: Taupe, Charcoal, Turquoise, Seal, Ivory, Light Grey, Jade green, White, Gold leaves, and silver leaves.

Shown as Faux shagreen Square tissue box in TURQUOISE color

Dimensions

Mm: L140mm x W140mm x H140mm

Inch: L5.51x W5.51 x H5.51

Materials

Faux Shagreen + MDF + PU lacquer inside

PLACE AN ORDER:

Sanaco is a manufacturer and has exported to wholesalers over the world with FOB Price, MOQ is normally 20 to 50 pcs/sets.

Sanaco accepts to make samples with FOB Price x 2 times.