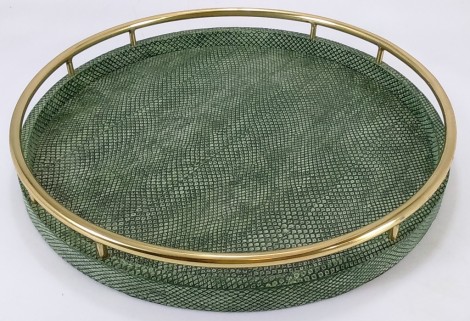 Faux Boa skin round tray with circle brass handles in Moss Green color
One of our newest Daphoco Faux Boa n items is round tray with circle brass tray in Moss Green color. The combination between shagreen and polished brass creates the exotic look to you.
Designed by Mr. Alex, 100% handmade in Viet Nam, with exclusive circle brass handles in a contemporary design, finished in Moss green Boa skin color; this stylish faux boa skin (snake skin) round tray can be used as a drink, serving tray or display tray and looks elegant in both contemporary & traditional interior settings. It is easy care, non-absorbent material. It makes a perfect gift, present for any occasion.

To remove stains & ring marks the surface can be wiped clean with a damp cloth.

Available in several of Boa skin colors to suit many different interiors. Every piece is hand-finished by Vietnamese skilled workers

Other Boa skin colors are also available: Taupe, Charcoal, Turquoise, Seal, Ivory, Light Grey, Jade green, White, Gold leaves, and silver leaves.

To see more color, please browse in: http://www.fauxshagreenfurniture.net/en/collections/color-swatches-on-faux-boa-skin/

Shown as in Faux Boa Skin (snake skin) Circle bass round tray in Moss Green color

Dimensions

Cm: 0.470 x 0.470 x 0.065

Inch: 18.50 x 18.50 x 2.56

Materials

Faux Shagreen + MDF + Polished Brass

PLACE AN ORDER:

Daphoco is a manufacturer and has exported to wholesalers over the world with FOB Price; MOQ is normally 20 to 50 pcs/sets.

Daphoco accepts to make samples with FOB Price x 2 times.